all production P6 models 1963-1976
The P6 was made with a choice of four- and eight-cylinder engines. Model designations are referring to the engine specifications. Altogether, about 320.000 cars were produced, including about 80.000 with V8 engine. In its whole production life, the following models were made, please choose a model to read more:
2000 series - 2000 (2000SC), 2000TC, 2000 Automatic
2200 series - 2200SC, 2200TC, 2200 Automatic
3500 series - 3500, 3500S
3500 US market - 3500S (NADA)
Rover Estate - conversion by Crayford
2000TC Corgi - dream of a trouble-free P6

This is the original model, introduced in 1963, and it remained in production until 1972. It was powered by a 2-litre four cylinder engine with 90 hp. Performance was okay, exept for the Automatic model that was launched in 1966 with an American Borg-Warner three-speed auto box. In 1966, the 2000TC (Twin Carburettors) was added to the range, it offered more power (115 hp) and a standard rev counter. The base model 2000 was later named the 2000SC (Single Carburettor). All cars had standard leather upholstery until the Second Series was introduced.
All P6 models got a facelift in 1971 with some external changes and a new dashboard (this not for the Rover 2000SC and Automatic), these are now referred to as Second Series. Most of the facelifted models got the new 2200cc engine, see below.
In 1972, the models 2000 and 2000TC were replaced by the new 2200 and 2200TC with increased engine capacity. This offered no more horsepower but increased torque, and the new engines were smoother than the old ones. But fuel economy was a bit down. All 2200 models are Second Series. Be careful, because they did not longer come with standard leather seats, some cars have "Ambla", this is a very good PVC trim, and some had cloth seats with a 1970's fashion stripe pattern that lookes a bit like corduroy.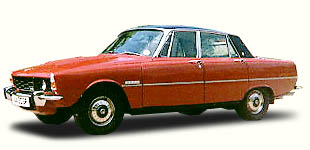 In the end of 1963, William Martin-Hurst, Managing Director at Rover, discovered a compact V8 engine when he visited General Motors in the United States. The Buick division of G.M. had developed this engine only a few years before, but did no longer need it! It simply was too small, it had only 3.500 ccm replacement, and then it was made of light alloy, so it probably seemed rather like a "baby engine" to the US citizens! This engine was bought by Rover, and improved, before it went under the hood of the Rover P5 and P6 models. It really was a centuries' deal, and is still used in the Range Rover, and other cars like the TVR where it develops a healthy 310 hp out of five litres. It is a very reliable engine (but only if you pay attention to the oil and the camshaft!) and sort of economic, too (the P6 V8 needs 12 to 15 litres/100 km (around 20mpg) with automatic transmission).
The Buick engine turned the P6 into something that one would call a "premium automobile" today. In October 1971, a model with four speed manual transmission was introduced and this was named a "3500S", too. This model was the fastest of all P6 Rovers, with a top speed of nearly 200 kph (124 mph). Surely, this was a tempting alternative to cars like the litte BMWs and Alfa Romeos, as the Rover was very sensitively priced in most countries. In Germany, however, the car was VERY expensive and had to compete with luxury cars like the Mercedes 280S.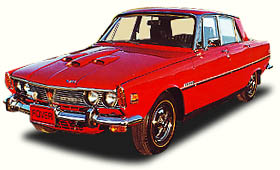 The desirable North American 3500S was introduced in 1969 and featured the most complete equipment of all models, including power steering, power windows, optional air conditioning, and some additional interior details. It is very sad that this beauty did not have much success in the U.S. mainly due to the poor dealer network Rover could offer in the United States. Probably the Americans could not get used to the car's rather compact dimensions, too. In 1971, sales in the U.S. were stopped. Only some of the great details of the 3500S were incorporated in the later European models. Some of the Federal 3500S cars were sold in Belgium, Germany, and other European countries (not the U.K. because they were left-hand drive).
The exterior details unique to the Federal 3500S include its magnificent three bonnet hoods, and front and rear side position lamps. Being introduced in 1969, the car is strictly speaking first series P6 but introduced many second series features such as the new instrument cluster, and modern seat piping style, yet it has the much better-looking chromed radiator grille of the first series. It looks stunning on original golden striped tyres and chromed hubcaps.
Note that this model often is referred to as NADA 3500S, NADA standing for "North American Dollar Area". But Rover used this term only up to 1967. Later, they changed to "Federal", so that "Federal" 3500S is the correct designation for all American V8 Rovers.
British conversion specialist Crayford offered an Estate conversion of the Rover P6. Both four-cylinder and vee-eights were available, making the P6 Estate one of the earlier "premium" station wagons. A good decision was, that the characteristic sloping roof line of the P6 was retained - what a great and elegant design! (The first prototype's roof line was even lower at the rear end by another two inches!) Altogether, about 150 cars were produced, so it seems not so easy to get one of these beauties today.
This one is the most affordable and trouble-free of all Rovers. A great little toy, size about 1:45, resembles the original thing with soft suspension, interchangeable wheels and a spare wheel mounted on the boot. Best of all, you can see it all the time on your desk. I am very happy to have it finally added to my Rover collection.
PS. thanks, of course, for


for that nice Corgi Rover model that I still enjoy very much!