My dream car.
The photos on this page were taken May 2002. Click here to see more photos of the car.....
I am a lucky guy. I was able to buy my dream car when I was 24 years old. Well, it was far away from a perfect condition and still needs a lot of work. But the P6 definitely is one of my favourite cars of all times and price ranges! And although I sold this car in 2003, I still love it and surely will get anotherone in the future.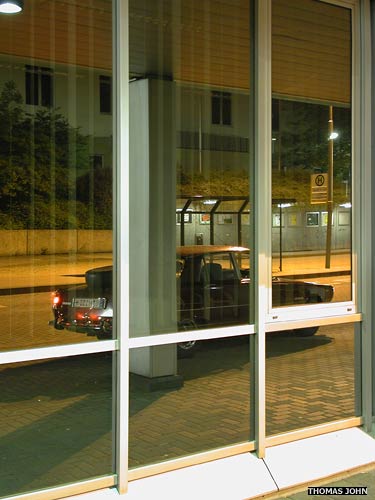 I bought this car in September 1998. Since then, a lot of things have happened to it, although not quite those that I intended ;-) So; I'll keep it at least as long as it will be sorted and look really shiny. And I hope some day it will be worth at least most of the money that I actually have put into it ;-) This all can take some more years... but who cares?!
Car came from the first owner. It was registered in October 9th, 1969 by the German Rover importers and used as a show car until 1971, then sold to a private owner in Velbert (about 30 miles from Düsseldorf). Enter myself in 1998. P6's being an absolute rarity in Germany, especially first series cars, I found it through the German Rover Friends just 5 miles from my home, test-drove it and bought it for €2500 (including some spare parts). It had about 163.000 kilometres on it.
Previous owner already had the gearbox rebuilt by a local specialist for a whopping 3500 DM (€1800) and also bought four new wings, three already fitted to the car, the fourth came as unused spare part. Paint is original and faded on boot, bonnet, roof and three doors. The three new wings and one door have been painted a few years ago. The remaining older wing was attached after an accident which is a lot of years ago. You can imagine that the car is covered in very different shades of "brigade red".
Since I bought it, the brake servo, the rear axle and driveshaft have been repaired/changed. I've done about 7000 kilometres and got the "historic" registration which is very useful for 30+ years old cars here in Germany. Well and then, one day, came a big rumbling noise in the engine .... not good! Berry Smink (www.smink.nl) did change the engine to a good used one, and it was back on the road on May 2002. Hopefully no more engine problems in the future !
The car was then used daily, because in April 2002 my daily driver, a 1983 Mercedes 200D, was stolen - so I only have the Rover right now, nothing else. I traveled about 25000 kms with it within 11 months - with no problems, before I finally sold it to finance the buy of another Mercedes. I did not keep that Merc for a long time at all, oh well... that's another story :)